Coral Gables is certainly living up to its namesake as "The City Beautiful" with long-anticipated plans underway to bring pedestrian-friendly and economically competitive upgrades to the Downtown area. The exciting Miracle Mile and Giralda Avenue Streetscaping Project is officially taking off with a community-led steering committee recently put in place to guide the key components of the $20 million project. The group will work to gain the cooperation of the community and seek input directly from stakeholders, determining details from landscaping to sidewalk width.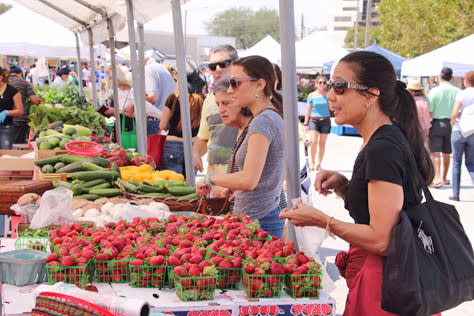 Farmers-Market-wThis month also brings Coral Gables' celebrated Farmers Market. As I've mentioned here before,
foodie culture has re-shaped the community
, and brought the highly popular market to the Gables each year. Find some of the freshest produce in the city available among baked goods, juices, honey, jams, gourmet specialty foods and much more. The market also becomes an activity center–offering gardening workshops, cooking demonstrations and even Tai Chi classes to community members.
While Coral Gables is widely known for it's luxurious homes and high-end shopping and dining experiences, it also offers some of the best educational opportunities available. A top priority to many clients interested in relocating to Miami–Coral Gables is home to the A-rated International Preparatory Academy. The school is the only one in the U.S. to offer an International Studies program where students can learn world languages in addition to an academic curriculum with an international focus. With so much to offer, reach out for expert guidance navigating the luxury lifestyle in the Coral Gables community and find my
exclusive waterfront listings
near the heart of the action.
With over 11 years of experience and an established reputation as one of the top producing agents at ONE | Sotheby's International Realty, I live to share my luxury real estate expertise with clients looking to buy and sell in Coral Gables and surrounding South Florida communities. Find all information about my background and services on
my website.