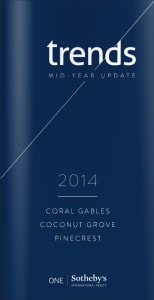 The ONE Sotheby's International Realty Mid-Year Trends Update has arrived! This vital report is essential to understanding the strength of the real-estate market in specific neighborhoods of Miami and South Florida and provides key insights into each market. Comparing home prices, days on the market and residential demographics, the trends report compares these estimations year over year to show the rate of progress within these neighborhoods.


It is no surprise then that Coral Gables, a neighborhood synonymous with luxury and renown for its spectacular waterfront properties, is continuing to flourish. In fact, the report finds that residences in Coral Gables have reached a six year high while moving off the market faster than they have since 2008, at an average rate of 137 days. So far in 2014, there has already been 433 closed transactions with the Gable Estates area of Coral Gables leading in the largest percentage change in average price per square foot compared to Cocoplum and Gables by the Sea. Prices there have increased by 23 percent since the first half of 2013, while Cocoplum homes increased by 3 percent and Gables by the Sea residences increased 18 percent per square foot.


Meanwhile, another neighborhood known for its luxurious single-family homes, Pinecrest, is also showing great strength in the real estate market. "The average days on the market has dropped 22 percent from 187 days in the first half of 2013 to 145 days in 2014," the report finds. Not only are these homes flying off the market, but the price per square foot has increased by an impressive 9 percent since last year, averaging at $285 per square foot. Click through the document to find further details and how these neighborhoods compare to the city overall.


With over 11 years of experience and an established reputation as one of the top producing agents at ONE | Sotheby's International Realty, I live to share my luxury real estate expertise with clients looking to buy and sell in Coral Gables and surrounding South Florida communities. Find all information about my background and services on
my website.