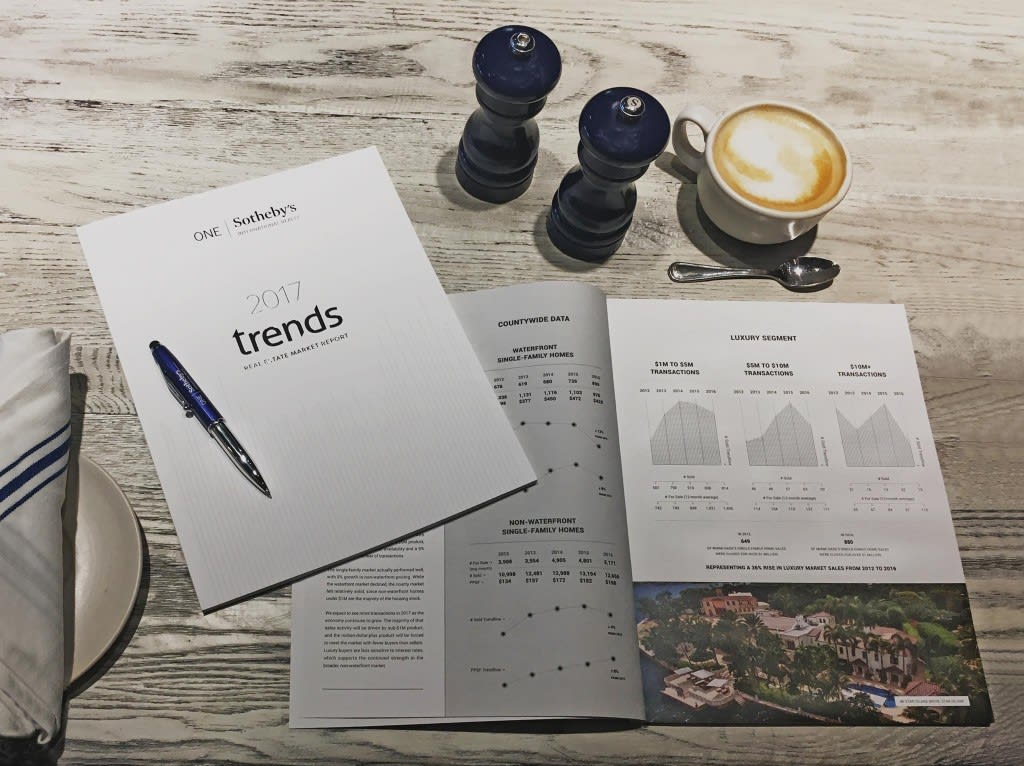 ONE Sotheby's International Realty has released the 2017 TRENDS Market Report produced in partnership with Integra Realty Resources (IRR). The report has become a key tool for forecasting the real estate market in South Florida. Last year, the in-depth analysis predicted that there wouldn't be major retreats in market-wide pricing, but due to inventory being built in some sectors, pricing was going to be affected. In addition, it predicted that global markets and currencies would start to see some stabilization with it translating into active buyers for South Florida in approximately 3-5 years.
The TRENDS report data for luxury markets in 2016 shows the number of transactions in almost all segments declined making prices vulnerable. By market, our analysis indicated that traded markets were hardest hit with 10 to 12 transactions year. In Broward, single-family home transactions between $1 million to $5 million declined by 9%, whereas transactions over $5 million increased and inventory remained steady.


2017 is expected to remain strong with a 3% employment gain in 2016 as one of the main reasons. Positive economic growth is on the table due to a possibility continued interest rate in 2017, which will attract buyers that have been hesitant in the past. The luxury market, especially waterfront homes, in the $1 million to $5 million range need to be serious about pricing in order to close a deal. Overall the economy remains in a strong place and 2017 is going to be a better year for real estate, as long as sellers are realistic about what they are pricing their properties.


If you would like a hardcopy of the 2017 TRENDS Report
email me
or you could read the complete TRENDS Report online:
TRENDS 2017

With over 15 years of experience and an established reputation as one of the top producing agents at ONE | Sotheby's International Realty, I live to share my luxury real estate expertise with clients looking to buy and sell in Coral Gables and surrounding South Florida communities. Find all information about my background and services on
my website.