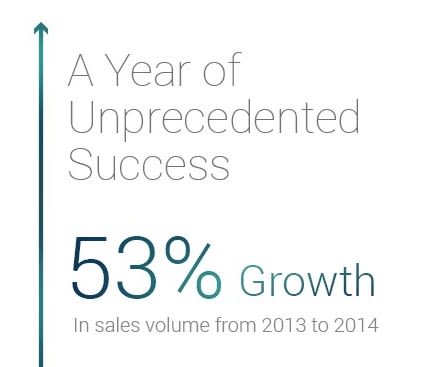 I'm proud to report that my firm, ONE Sotheby's International Realty, has surpassed all previous sales records with an impressive 53% growth in sales volume from 2013 to 2014! Thanks to our loyal clients and our phenomenal team of agents, this unprecedented success firmly marks ONE Sotheby's standing as an industry leader and a growing powerhouse in the South Florida luxury real estate market.
With more than 400 of the most qualified agents in nine offices between Miami-Dade and Broward Counties, ONE Sotheby's International Realty successfully sells some of the most spectacular homes on the market. From the game-changing Brickell City Centre to the architecturally significant 1000 Museum, ONE Sotheby's continually pushes the envelope. These impressive new projects, among the many exclusive listings our dedicated agents procure, reflect the firm's unrelenting commitment to connect elite buyers with exceptional homes.


The Dennis Carvajal Group is proud to be a part of this incredible team and act as a contributing member to the brand's ongoing success. With several
exclusive listings
offering the height of luxury living throughout South Florida, please contact me for information on how you can work with the Dennis Carvajal Group and ONE Sotheby's International Realty for your future real estate transactions.
With over 11 years of experience and an established reputation as one of the top producing agents at ONE | Sotheby's International Realty, I live to share my luxury real estate expertise with clients looking to buy and sell in Coral Gables and surrounding South Florida communities. Find all information about my background and services on
my website.