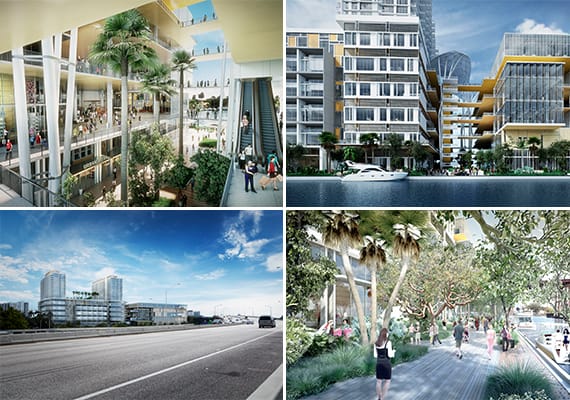 All along the Miami River, there's a wave of waterfront dining options joining residential and commercial megaprojects, as well as massive amounts of new construction happening in nearby areas like Downtown, Brickell and Little Havana.
At the southeastern end of the river, the Related Group's One Brickell will open up pedestrian connections toward
Brickell City Centre.
A few blocks west, the Chetrit Group is behind a megaproject immediately east of Jose Marti Park with the working title Miami Riverwalk. Farther up the river, River Landing is a pair of mixed-use towers adjacent to the Jackson Memorial/UM hospital complex that, when completed in 2018, will include big-box stores, residential units and generous outdoor parkland. And in the Central Business District, KAR Properties has proposed the development of twin, slender, 60-story luxury condo towers connected by a sky bridge.
It's all part of the city's plan to create a vibrant and active riverfront, with pedestrian life being central to the river's future. In the end, city officials say the Miami River will be a better, more active version of what it has always been: a working and living waterfront, with fishing boats and marinas coexisting among strolling couples, casual shoppers and cruising yachts.


The river is actually one of the few areas in Dade County that can handle mega-yachts and more big boats are coming. The Miami Mega Yacht Club is also in the world with major docking capacity. I look forward to keeping you updated on these community milestones. Please reach out to learn more about the Miami market.


With over 11 years of experience and an established reputation as one of the top producing agents at ONE | Sotheby's International Realty, I live to share my luxury real estate expertise with clients looking to buy and sell in Coral Gables and surrounding South Florida communities. Find all information about my background and services on
my website.