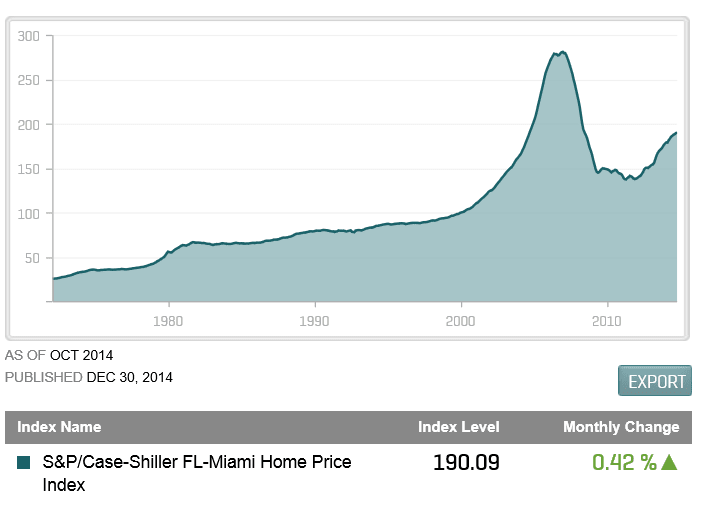 The New Year has only just begun, but already projections for the 2015 Miami real estate market are proving strong with reports that residential property prices have surged higher in Miami than any other major market. According to the latest data from
S&P/Case-Shiller Home Price Indices
, Miami is leading the nation in home price appreciation with a 9.5 percent average between October 2013 and October 2014.
While most of the 20 cities included in the composite saw appreciation decrease year-over-year, only eight cities saw prices rise faster with San Francisco just behind Miami at 9.1 percent. Meanwhile, Miami far outpaced the national index which gained 4.6 percent in the same time period.


Miami continues to attract international attention from investors drawn to our gorgeous beaches, flourishing arts community and waterfront lifestyle in communities like Coral Gables. This reputation as an international hot-spot has kept real estate prices strong with home prices now at their highest level since 2008. Experts agree that 2014 ended on a strong note, and the trend is expected to continue well into 2015. As a luxury real estate expert specializing in the highly sought-after single family homes of Coral Gables, contact me to leverage my experience and expertise buying and selling residential properties in the Miami real estate market.


With over 11 years of experience and an established reputation as one of the top producing agents at ONE | Sotheby's International Realty, I live to share my luxury real estate expertise with clients looking to buy and sell in Coral Gables and surrounding South Florida communities. Find all information about my background and services on
my website.