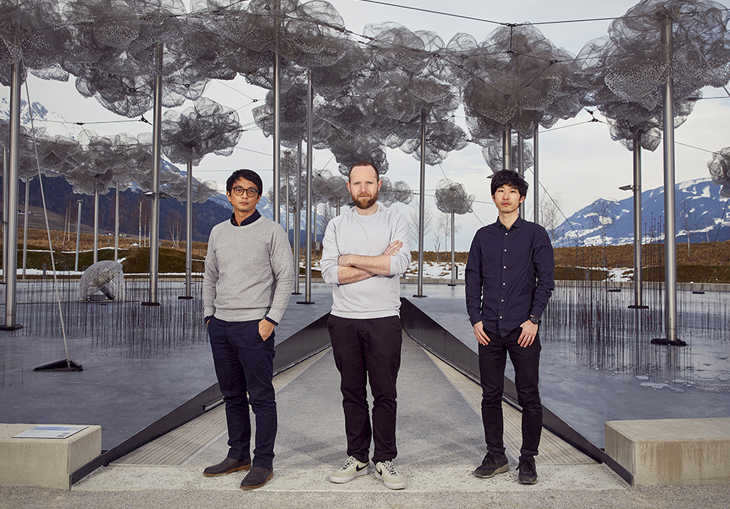 ©2018 DesignMiami/
Design Miami/Basel, the Miami-born, luxury fair for new and vintage home furnishings, textiles and accessories, opened to the public today in Switzerland. Of its 47 galleries, five are making their Basel edition debut. Caterina Tognon (glass works), Galerie Mitterrand (sculpture by François-Xavier and Claude Lalanne), Galerie Regis Mathieu (historic chandeliers) and Side Gallery (modernist furniture by Brazilian architect Oscar Niemeyer) hail from Europe, while The Future Perfect (contemporary design) operates locations in Los Angeles, New York and San Francisco. The week-long event also premieres Curio, a series of installations inspired by cabinets of curiosity that are sprinkled throughout the fair. Each comments on craft, production, science and technology to offer a snapshot of 20th– and 21st-century design. For example, British artist Dominic Harris's "Baby Shimmer," a large-scale, interactive installation with colored lights, immerses viewers in simpler, pre-digital times of less resolution and lower fidelity.
But a certain barn is attracting the most buzz. Raf Simons, chief creative officer for Calvin Klein, imported reclaimed barn wood from the American countryside to reconstruct part of the building for the house's inaugural installation here. He runs with the theme by upholstering 100 limited-edition Cassina Feltri armchairs with unique, heirloom American quilts dating as far back as the 19th century. After selling the first 50 during the fair, Cassina plans to offer the remaining half at a later date.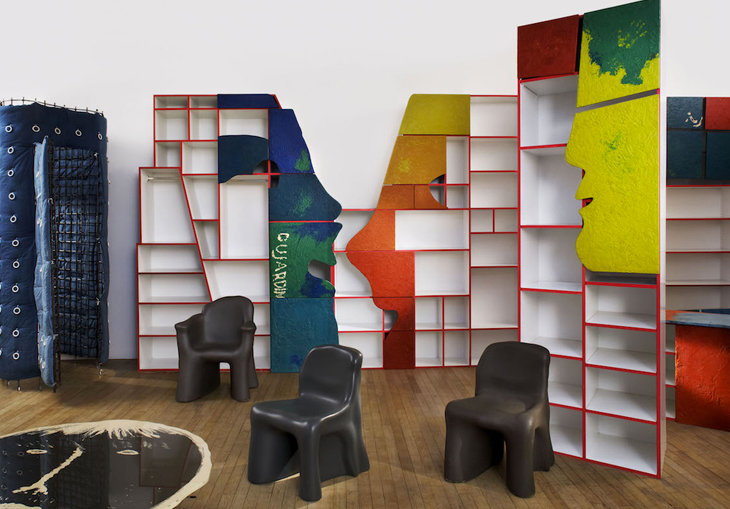 Shelves and cloakrooms for the Dujardin store in Knokke-le-Zoute/ By Gaetano
Pesce (b. 1939)/ 1994/ © Marie Clérin / Galerie Downtown Paris - François Laffanour

In between purchases, attendees can learn more about the industry through Design Talks. The program covers widespread themes such as the Time's Up and #Me Too movements; design writer and curator Libby Sellers leads a panel on topics related to her new book, "Women Design: Pioneers in Architecture, Industrial, Graphic and Digital Design from the Twentieth Century to the Present Day." A screening of "SuperDesign: Italian Radical Design 1965-1975" is followed by a panel discussion and book signing of the material that inspired the documentary. Other talks explore local production and the return to craftsmanship. Find a complete listing here.
This week further celebrates the winners of the Swarovski Designers of the Future Award. Selected for their innovation and other contributions to design culture, Frank Kolkman, Yosuke Ushigome and Study O Portable, made up by the design duo Bernadette Deddens and Tetsuo Mukai, were commissioned to create works with Swarovski crystals. For example, Ushigome studied how crystal will be implemented in smart home technology including the rise of AI home assistant devices.
The fair involves a charity component, too. South African artist Porky Hefer's large-scale sculptures double as seating to benefit the Leonardo DiCaprio Foundation, a nonprofit for climate resiliency, wildlife protection and ecosystem restoration. Titled "Endangered," his exhibit features animals—the orangutan, polar bear, sloth, blue whale and great white shark—that are vulnerable to extinction. By inviting people to cozy up to the works, he hopes to foster a bond with nature and empathy for the animal kingdom.
Inspiration continues in the Design at Large sector, for which a global tastemaker curates ambitious architectural installations. Among this year's edition, Galerie Patrick Seguin presents a comprehensive overview of 20th-century French designer Jean Prouvé's signature materials, demountable structures and architectural details like circular "hublot" windows and curtain wall facades. Laffanour Galerie Downtown/Paris focuses on a Nineties-era project by Italian architect and designer Gaetano Pesce. Its exhibit recreates his interiors for Dujardin's boutique on the Belgian coast for viewers to experience his playful vision firsthand.
The fair also collaborates with outside institutions for a series of satellite exhibits. Having popped up during a luxury watch event in the Miami Design District in February, Stuart Parr brings more of his collection of rare, vintage Italian motorcycles and cars for "The Mini, The Mightly and The Moto." basel2018.designmiami.com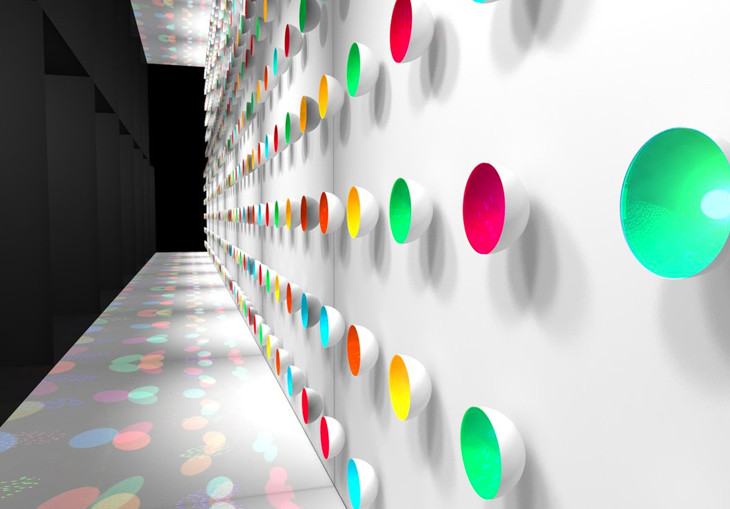 Baby Shimmer/ Dominic Harris, 2018/ Courtesy of Priveekollektie Contemporary Art | Design