The recently released Sotheby's International Realty
Luxury Lifestyle Report
is available as a resource which defines the purchasing behaviors of the wealthy based on surveys of consumers around the world. Insights mined here have larger implications about the luxury sector leading the way for the overall real estate recovery. A majority of respondents participating in the survey from the United States, United Kingdom, Brazil and China indicated that they were more likely to purchase a lifestyle property now than five years ago. This report serves to aid clients in understanding the foundational currents or market recovery as they acquire inspiration for their next home purchase.
The report breaks also down demand for certain niche properties, leveraging survey data as well as lifestyle searches on sothebysrealty.com. The most sought after homes were waterfront properties – a trend that I see reflected daily in my South Florida buyer and seller behavior. The majority of consumers also indicated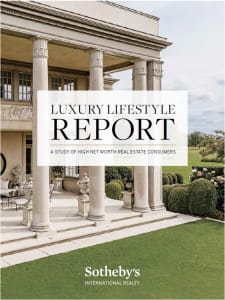 they would likely make a legacy home purchase with the intention of keeping the property in the family. Half of our Sotheby's Network members revealed that these clients were willing to spend between $1-3 million per transactions. Read on for a deeper dive of each examined market with the special attention on the United States from pages 11-15.

With over 11 years of experience and an established reputation as one of the top producing agents at ONE | Sotheby's International Realty, I live to share my luxury real estate expertise with clients looking to buy and sell in Coral Gables and surrounding South Florida communities. Find all information about my background and
services
on
my website.